Our 6-person relay team (Denise, Eamonn, Enda, James, Peter aka "The Bullet" and Saskia) departed from Rosslare for Dover via the Stenaline ferry (kindly sponsored) on Tuesday, 1st July 2014!
Thanks very much to Heike for her coaching and to Mick O'Flaherty plus other boatmen who have continuously supported the team by kindly providing their boats and time to ferry the swimmers out and accompany them on their training sessions off the Kilmore Quay coastline. A big, big Thank You too to Stena Line who very kindly sponsored our team! 
The boat that accompanied our successful team on their Channel crossing is called "Anastasia" (a 43ft Dutch Steel flybridge cabin motor cruiser) and the pilot is Eddie Spelling.
Below are pics of them in Whitford Hotel just before they hit the road for the ferry. There are also some pics taken as we waved goodbye from Rosslare quay wall. And so the journey begins ….!
Written by Peter aka The Bullet & Denise Underwood
Starting on the 1st July, 2014 which is when they departed for Dover.
We have had a packed 24 hours. James drove through the night with just one stop along the way.
We hit Dover at about 7.30. It was pretty exciting driving into the port with France in full view. You could see the mix of anxiety and excitement on everyone's faces.
Our accommodation is nice, a bit cramped but in a lovely location just 10 minutes from the sea. We went for a swim and were amazed at how strong the current was.
After that we hit the village for a big fry up. Did a bit of shopping. Just essential only but Denise got carried away as she does. A few hours kip and back to the beach for another swim.
Day 2. Lazy sods got up at 8.30. Lots of pillow talk could be heard from Saskia and Denise's room. James had a nervous night and didn't sleep much. Wind is up today; sea rough. Managed a 40 minute swim against the current and only travelled one km. Beautiful day just spent relaxing. Heike and Sandra arrived at 5.30. They hired a car as we may do some sightseeing.
Headed for another swim this evening. Denise and James were tapering, so only 4 serious swimmers in the water. The others did safety from the pub! Our swim now looks more likely for Tuesday. We are all a bit disappointed, but there's not a lot we can do. Still two groups waiting to get out in front of us. Saskia and Denise cooked a fantastic lunch omelette with mushrooms and tomatoes, some chillies and garlic bread.

Update from Denise: Weather is playing it's part in this deal! We won't be swimming on Friday .. could be any day, but more likely Monday.
Day 3. Everyone up early this morning. Denise out of character joined in with Peter to do some stretching.
It was a beautiful day. Temp up to 32 degrees. We headed off on a road trip to Canterbury to see the cathedral. Pretty cool. After that we headed for Whitstable to say hello to Denise's relations. Homemade lemonade in the garden.  Great afternoon.
Headed back to base around 6.00 and went for a swim. Heike found it cold
No further updates on our swim date. Still looks more like Tuesday which is annoying but there is nothing we can do about that. We are meeting Eddie the pilot on Sunday so should have so more info then. No one crossed today. All swimmer have been put off till Monday at this stage. Over and out!
Day 4 – another day. Weather really poor today. Rained all night and extremely windy. We headed into Dover and spent the day looking around the castle overlooking the port. Fascinating, thanks to our missing colleague Tony. Visited the underground secret tunnels over 4 miles long. James wondered about the wisdom of bringing a German along with us to learn all the British secrete. The castle was interesting. Visited the port after; hoping to spot our boat. No luck, so we had an ice cream and wasted an hour looking out to sea wondering how the f we will ever cross that sea.
Saskia's sister came to visit (Annabel) she taking money from Enda and Eamonn playing cards. I think she is making the rules up as she goes along. Eamonn recons they are Dutch rules and he is lost. James put a bib on this morning and did the house work. Pushing us out of the house so he could do the hovering. He has a wonderful feminine side. You're so lucky Sheila!!!!
We headed for our evening swim. Fair play to Heike it was cold and she did 10 minutes. News not good on swim. Next door solo swimmer has now been put off till Tuesday. Apparently all the pilots were looking at the same weather forecast for the past few days which was wrong and the could have had swimmer out yesterday.
On a lighter note numbers are now increasing for morning stretching with Peter. Today we had Denise and Saskia with Heike in the background breaking her sides laughing telling us we are doing it all wrong. We will miss herself and Sandra when they head back tomorrow.
Day 5 now. Hard to believe. Weather awful again raining for most of the day. Said goodbye to Heike and Sandra this morning. They cooked some meal for last night.
The channel 6 headed into Dover to see Eddie on the boat. That was great. The boat is big, spacious and comfortable. Eddie, thank God, has a great sense of humour. He prepared us for the worst possible news that we may have to come back in August or September.
We decided to go for a proper swim in the harbour and show the locals how it's done. As we were swimming Denise got a text from Eddie to say he would like us to swim tomorrow instead of the deaf relay team saying there would be more of a pull on Monday and that we would be better able for that but ultimately the choice would be with them.
In the mean time we were bursting it out of it thinking it would be a good blow out before the big swim.  45 minutes and 2.2 km later we were greeted with the news we could be heading out in less than 12 hours.
As an aside Eamonn got a text from the local library that some of his books were overdue!! Back to reality you could really see the effect the constant changing is having on us all.
We have decided on the order of swimmers. Eamonn first followed by Enda then Peter, Saskia, Denise and finally James. He told us we need a strong swimmer for the sixth hour.
Meantime Eddie has talked to the other relay team and they have taken the Monday slot. Bummer!!
Lots of complaining from Denise and Saskia having been woken by pots and pans banging this morning. James cooked a fantastic fry for us all followed by chunky door stopper slices of toast. Tasty!
P.S. thanks for all the messages of support. They are all appreciated.  Signed Peter, Eamonn, Denise, Saskia, Enda and James.
Successful Crossing of English Channel in 12 hrs 31 mins
We started the day at 1.30 am. Everything was packed and ready to go for the big swim.
Met the boat at 2.30 and headed for Shakespeare beach. The concentration on everyone's face was palpable especially Eamonn who had the first shift in the dark.
We lit him up with a flashing beacon on his head and a glow stick on his backside. We got within 100m of the shore. Eamonn swam the short distance climbed up on the beach raised his arms the siren was let off and the clock started at 3.30am.
We employed a simple method to keep in contact with swimmer one arm up signified 15 minutes up, two arms 30 minutes one arm up again 45 and then a full hand for you last five minutes.
As each of us progressed through our solitary hour in the water, we waited patiently for that first sign of progress but mostly we wondered have the rest of the crew forgot about the one in the water. Looking back to the white cliffs of Dover, progress seemed painfully slow with France so far away in the distance.
Everyone was nervous getting into the water for their first time which made it difficult to get your rhythm and settle into the swim. We came across a swarm of nasty jellyfish for a period of a couple of hours. No chance of napping with those hanging round. Lots of stings which were more uncomfortable than anything. The sight of them swimming close to you was pretty off-putting.
The crew was great. Eddie and the gang on board the Anastasia were upbeat and encouraging. They seemed happy enough with our progress while Sharon, our observer, who evaluated each swimmer during their hour and marshalled the change-over said we were doing good. As we progressed through the sixth hour however it was noticeable that they crew were getting excited about the prospect of a 12 to 13 hour swim.
As we entered the water for our second hour the nerves had visibly disappeared. Apart from James loosing his hat and Saskia hitting a mass of sea weed, no one stopped or broke their stroke. On top of that, everyone increased their stroke rate and covered a greater distance for the second hour.
At the 12 hour mark, it was Eamonn's turn to get back into the water to finish off the swim. Just 1.5 km to go. Enda entered the water for the final 300m to keep Eamonn company and both touched the rocks at Cap Gris Nez at 4:06 pm after 12 hours and 31 minutes of wondrous swimming having travelled a total distance of 37.53 km.
It's hard to describe the feeling. It's quite emotional. We all worked exceptionally hard to achieve a dream that only has a 13% success rate. 6 ordinary people pulling together as a team to complete an extraordinary feat of endurance.
We would like to thank all our supporters, family and friends for their huge support during the week. To our sponsors Stena Line, Green Acres and Brodericks.
A special thanks to our fantastic coach Heike Coners, Mick Flaherty and all the crew from Rosslare RNLI for their involvement in deep water practice swims off the Saltee Island.
Team Back Home (9th July)
ILDSA 2014 Awards (31/01/2015, Bray)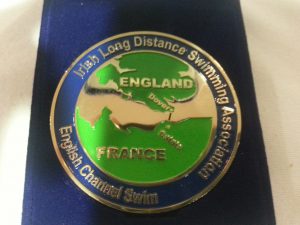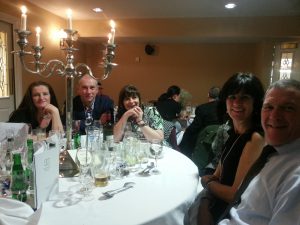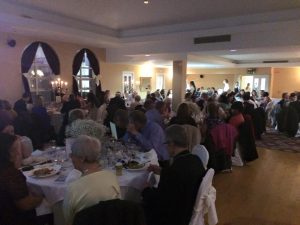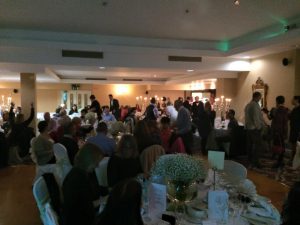 The first person to swim the English Channel unaided was Captain Matthew Webb on 25 August 1875 – it took him just under 22 hours. Info here.